Do you want to earn some more money alongside your current income? Or would you like to replace your current full-time position with Avon, being able to work from home and earn an income, working as and when you would like to? If so, you could Join Avon For £1 and start building a business or your own, working flexible hours and more.
You can Join Avon For £1 and start building your very own business in just a couple of minutes! All you require is £1 and 5 minutes of spare time to fill in some basic details and you can start with your Avon Business in no time!
Whether you want to build a team or just sell Avon Products, you can work how and when you would like to by Joining Avon. It only takes a couple of minutes and for £1, what isn't to love? It's simple, easy and pretty straight forward too! It's everybody's dream when it comes to employment!
But, maybe you want to find out more about the Avon Opportunity, which is absolutely fine! Take a look through this post to find out more about the Avon Opportunity and how easy it is to get started!
Join Avon For £1
It's true, you really can Join Avon For £1 and be behind your very own business, selling Avon Products and earning money in return. People often assume that offers such as the Avon Opportunity are a worry, however Avon is a completely legitimate business with a great opportunity!
Normally, to access the Avon Opportunity, you would have to purchase the cheapest starter kit, which is £15, however due to the current Avon Offer, you can Join Avon for just £1! That's right, you can join for just a quid! Surely you have £1 spare to give Avon a try?
It's even worth giving it a try for just £1, if you don't like it, you can leave and stop working with Avon. It's a really simple opportunity for people to take part in and build a business with. It doesn't require a huge budget like a lot of businesses either, you can start building your business at no cost and really work how you want to with your own business.
But why should you Join Avon for £1? What does the opportunity offer to people such as yourself, looking to earn some extra money alongside a current position or even looking to earn enough money to replace your current position. Well, you can Join Avon as either a Representative or as a Sales Leader, which is explained in more detail below!
Join Avon For £1 As A Representative!
When you Join Avon For £1, you will join as a Representative. This means that you will earn your income through the sale of Avon Products and your income is made as a commission, on the products you sell. As you earn a commission on your product sales, it means the sky is really the limit with your earnings, the harder you work, the more you will make.
Starting as a Representative is how everybody starts with Avon, it's the best way to get started as you get selling experience, along with building your income too! It's also very flexible and it's a great way of working, without working for somebody else or working set hours. It's about building your very own business and this is the first step to doing exactly that.
Once you have Signed Up and completed your application, you will be ready to get started. This is where you can start earning money, the same day as you have signed up. Start posting brochures when they come with your £1 starter kit, along with sharing your online store link too and you will soon find that you can make a lot of money when selling products!
It's easy to get started as a Representative and while you can Join Avon For £1, why not?
Join Avon For £1 As A Sales Leader!
While taking the first step will allow you to start the Avon Opportunity as a Representative, you can also become a Sales Leader with Avon too! Becoming a Sales Leader is often something that you do once you have been with Avon for at least a campaign, however it's the next level to your Avon Business. While you sell products as a Representative and make an income, becoming a Sales Leader can help you to make more of an income, much more!
An Avon Sales Leader is much like an Avon Representative. The only main difference being that you earn additional money on the sales your team makes, alongside the sales you make. This means that the more you recruit and the more they sell, the more you earn. It really is as simple as it sounds!
You still sell products like a Representative, however you have other Representatives underneath you, also selling! This means that as long as they are selling, you are earning. It's a great way to level up your Avon Business with ease, starting to build more of a business. It's just about taking the step into the next level through your sales and your efforts.
As soon as you have been with Avon for a campaign, you can become a Sales Leader, however Register your interest early and we can get started with helping you build and grow your Avon Business!
Is Becoming An Avon Rep & Joining Avon For £1 Worth It?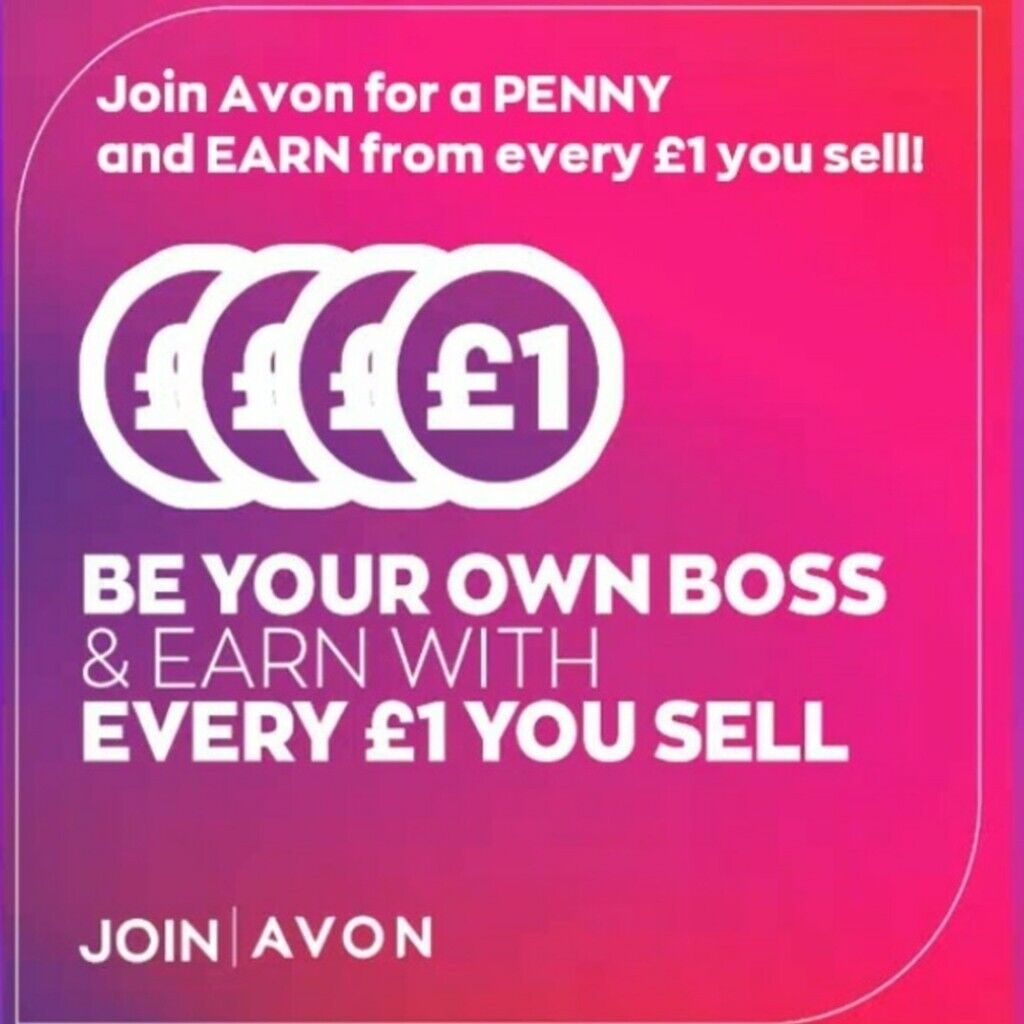 A common question from a lot of people before they become an Avon Rep is "Is becoming an Avon Rep and Joining Avon for £1 worth it?". As a Money Making Opportunity, a lot of people question just how good Avon is and how you can build an income as a lot of similar opportunities aren't worth working with.
It's safe to say that Avon isn't one of those similar opportunities. You can Join Avon as an Independent Avon Representative and sell Avon Products, making a real income from Campaign to Campaign. We have a team of over 100 Representatives who make an income every month and it's one of the most effective work from home opportunities to date.
Avon is based in the United Kingdom, alongside a number of other countries and they provide a variety of products for both men and women, whether it be skincare, makeup, aftershave and much more. This means that as a independent Avon sales representative, you can really earn an income and build a reliable, monthly pay through regular customers and the regular selling of Avon Products.
We have Avon Representatives across the country within our team, all selling products and even sharing tips amongst the team, meaning that you are never stuck for sales and for ways to sell either! You can sell with our strategies and sales techniques and really build yourself a business through the Avon Journey! It's flexible and often exciting!.
How Do You Generate Sales When You Join Avon For £1?
When you Join Avon For £1, the idea of selling Avon Products can be quite scary, especially when you haven't done it before. It's quite a different way of working and it's not like any other sales environment. However, once you get the hang of it, you will be earning in no time! You just need to use the tools on offer from both Avon direct and our team!
You have a couple of options, both of which our Avon Representatives use every day, for both Selling Offline and Selling Online. The main way of which is posting Avon Brochures every campaign to houses and people within your Local Area. Now when you are first starting, it's about posting to new people to generate first orders. While this again seems worrying, all you are doing is posting brochures on one day, collecting them on another. It's through this that you generate customers.
Your Second Option is to sell Online. This is something our Avon Representatives do alongside selling offline. With the suit of Avon Tools on offer such as your Online Store, you can get started with sharing your store link on platforms such as Facebook. It's amazing how many sales you can generate, just through sharing your online store link on social media.
The choice is yours, but if you want to sell as much as you can and really build your income, selling both Offline & Online is the way to go!
Should You Join Avon For £1?
Absolutely! For just £1, the free products in the starter kit are more than worth it, without the opportunity of being able to build yourself an income and business.
Is it Worth Joining Avon As A Representative?
Indeed it is, it's a great opportunity that is open to everybody, all you need to do is register your information through our form and we will be in touch!
Are You Joining Beauty Bosses UK?
Absolutely! You are Joining our Independent Avon Team as a Representative, selling products and building yourself an income, we are still Avon though!
Want To Give Avon A Try?
You can Join Avon in just a couple of minutes by filling in our application form. The form only requires your basic information so that Avon can complete any necessary checks and complete your sign up!
It only takes a couple of minutes and you can be behind your very own Avon Business in no time, so why not give it a go?
Once you have applied, a member of our team will be in touch to discuss the position and to process your application! Then that's it, you will be apart of our Avon Team and on your way to success!
Read our other blog posts!