With millions of Avon Representatives across the United Kingdom, all trying to Sell Avon and Recruit for Avon both Locally & Nationally through Social Media, having your name and your Avon Business on as many platforms as possible is absolutely essential to your Avon Sales & Income. This is where Google My Business comes in to help your Avon Business! With Google My Business allowing you to show up locally for search terms that are related to Avon, this allows people to find you on Google and directly contact you through a featured section of the search results!
Google My Business allows you to be displayed within Local Search Results when people are searching for Avon related searches within your area. This means that if someone is searching for an Avon Representative on Google, you can appear as one of the results and the person searching can contact you directly!
In this post, you can find out more about Google My Business and more about how you can create your Google My Business listing and how you can use it on a regular basis to drive customers and leads for your Avon Business!
What Is Google My Business?
Google My Business or GMB for short is a Local SEO or Search Engine Optimisation tool that allows businesses to appear on Local Search Results and Google Maps for search terms surrounding the business or area of which they are located. Originally used for Local Businesses such as Shops & Takeaways, you can use this for your Avon Business to appear for local searches.
One of the most useful tools within the GMB tool box is that you can display Business Information such as your Opening Hours which is great for a Physical Business, however you can also display and include contact information and your website too! You can include a "Call" Button within your listing that allows Mobile users to click and call you without having to find your number online. It just makes the whole process easier for potential customers!
Alongside that, you can also appear on Google Maps with your Business too. This means that if somebody is looking for something else on Maps, you can appear alongside it with your Business as a Pin.
Overall, GMB is an Online Search Tool to allow your business to appear on Google for search terms that are local and around your business and industry!
Setting Up Your GMB Listing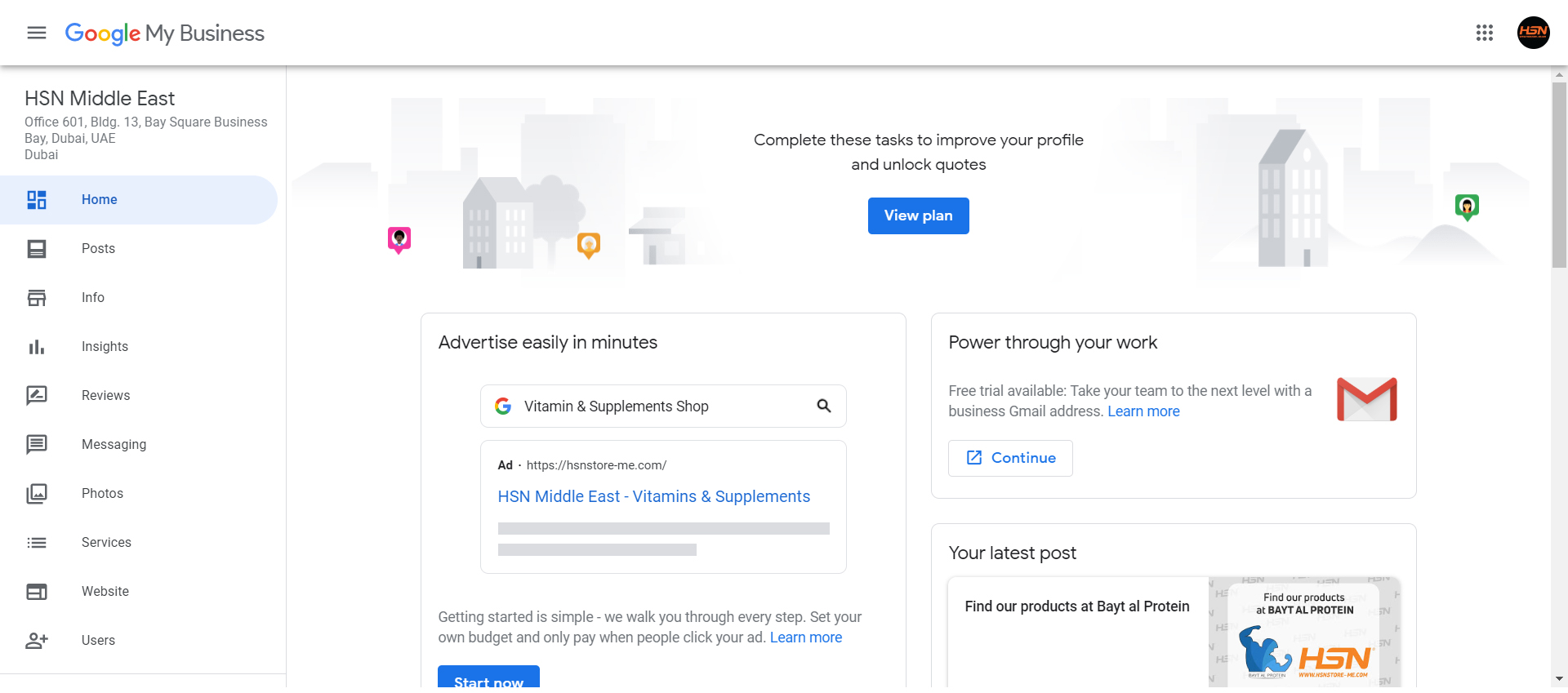 To use Google My Business, you need to set up your GMB listing. This will require you to fill in some basic information such as your name, email and location and then insert a code once it has arrived. This is a post card that Google will send out to you and you have to enter the code into your GMB Listing to prove that you own the listing and that you own the business that you are setting it up for.
You can find out more about the process of setting your listing up below!
Setting Up Your Avon Google My Business Listing
The first step is to create a Google Account and begin to setup your Google My Business Listing. This is easy. All you need to do is navigate to the Google Sign Up Page and create a Google Account. You can create this however you would like, just make sure that your email is something that you can use for your Avon Business!
You then need to create your Google My Business listing. This is where you will fill out any basic information that will be included within the listing such as your Business Name and Location. Go to google.com/business and click "start now" in the top corner to get started with creating your Google My Business listing.
Choose Your Avon Business Name
You will then come to this page. This is where you will insert your Business name. Now you can set this to whatever you like, I would recommend that it matches what you have set your Facebook Page name to, but it's your choice. Just make sure that it includes Avon and what you are offering, so that your visitors know!
Once you have selected your Business Name and you have entered it above, select Next to navigate to the next page!
Select And Input Your Avon Business Location
Once you have entered the name of your Google My Business listing, you will be brought to this page. This is where you enter your Business Location. As you are doing Avon and not setting this up for a Physical, Retail Location, you can set this to your Home Address and this is often what works best as it allows people to know whereabouts you are within your Village & Town. Also, this will allow people to see that you are actually within their area.
You will see some tick options below your Address options. This options allow you to do two things which is tick that you deliver goods and hide your address as you aren't a store. Tick the first one as you do deliver your goods and the second one is dependent on yourself as a Representative. If you don't want to display your Home Address online, that is fine and you can go ahead and hide it.
However, if you don't mind showing your Address on your listing, leave it unchecked. Again, this is more down to preference, however if you show your address, you may find that more people are inclined to purchasing Avon from you!
Include Your Avon Delivery Area For Your Business
Once you have inserted your Address, you will be brought to your Delivery Area page. Now this should show when setting your listing up, however if you haven't selected that you deliver goods and services, you may not see this section and you may need to go back and select the tick box.
When this section appears, you need to set your Delivery Area for your Avon Business. Depending on where you live will depend on how you set this up. You can set this up for your Village or Town or if you live in a City or Large Town, you may find that setting this to a 2-3 mile radius is more manageable.
How you set this up all depends on if your drive or if you do Avon via Walking as to how far you can go and how far you can deliver your Avon Orders and Products.
Select Your Business Category & Industry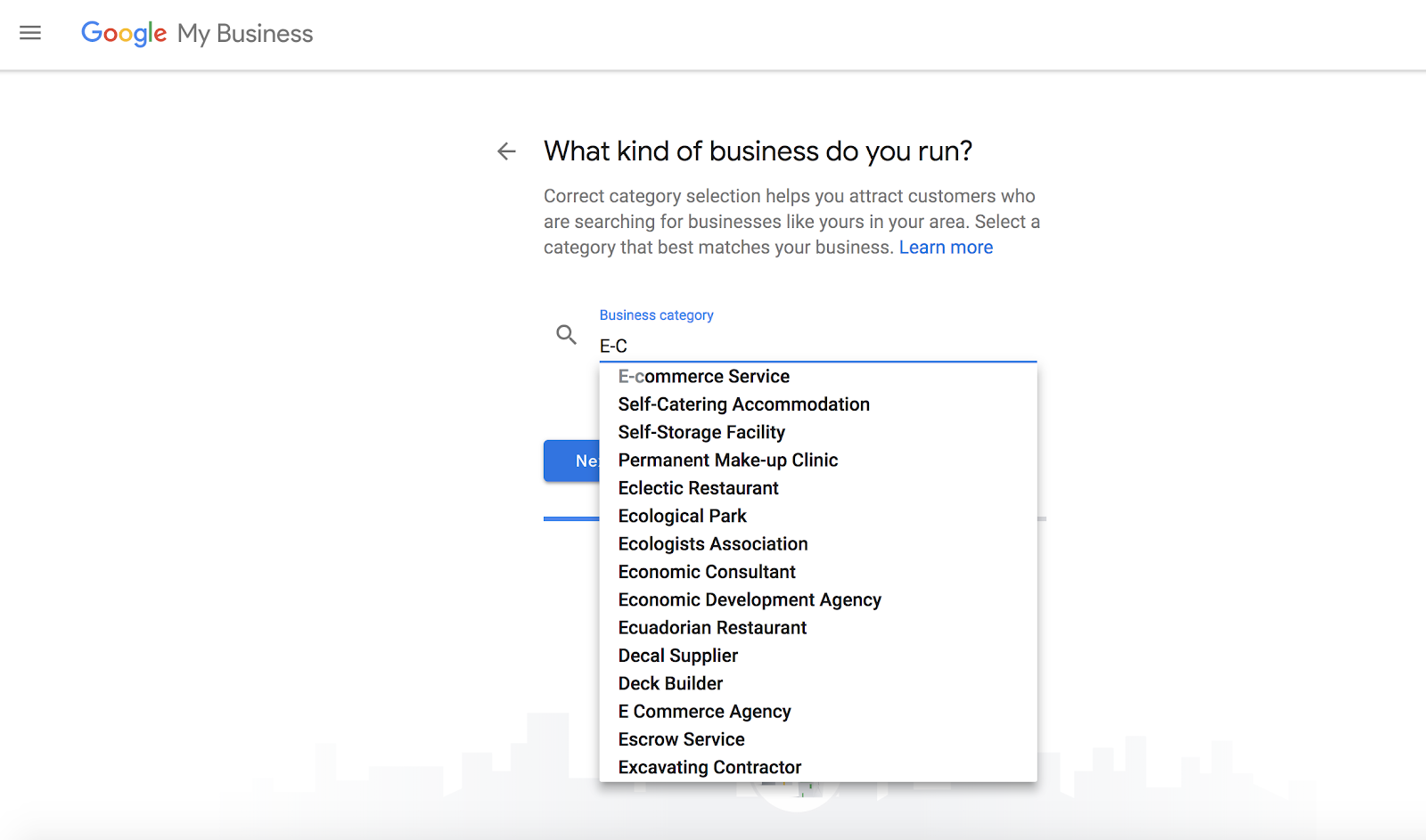 After you have set your Delivery Area, you will arrive on this section of the setup where you can select your Business Category and Industry. When doing this, you will find that Avon isn't listed as a Specific Business Category. This means that you need to set your Business Category to something that is close to Avon.
This Category could be Retail or Beauty or even Makeup, just something that relates to Avon and what you are trying to do as this will ensure that your Business is categorised correctly.
Once you have done this, just click Next.
Insert Your Avon Phone Number & Website
Finally, you will come to this page. This is where you add your Phone Number and Website. You can to make sure that this information is correct as this is what people will be clicking on and what people will be contacting you through.
For the Phone Number, you can just insert your Personal Number as this is what people will call and maybe even text so you want this number to be something that you have access to.
As for the Website Field, you want to set this to your Online Store link as people will click this wanting to purchase from you and letting them click straight through to your store will allow them to do exactly that.
Once you have inserted this information, Click Next to verify your Business and to complete your listing.
Verify Your Avon Business Listing
The final step to creating your GMB listing is to verify your listing. You can do this through a variety of ways, however Google like to often restrict how you do this and like you to Verify via Postcard.
This is where Google send a Postcard out to your Address with a code on, of which you enter into Google to verify that you own the listing and the business of which you are creating the listing for.
This postcard usually takes a couple of days to come via Royal Mail and when it does come, it's just a small postcard sized letter with a code on, of which you need to enter to verify your listing.
Optimising Your Avon GMB Listing
Now that you have created and setup your Google My Business Listing for your Avon Business, you now need to optimise your GMB listing by including the right information and content. This will "flesh" out your Google My Business Listing and allow those that see your listing, to find out the right information such as the hours you work or even your content information.
This part is easy and just involves including the right information for your Avon Business within your listing. It's important to remember here that we aren't posting on your Listing just yet. We are simply adding and setting up the rest of your listing.
Adding Your Listing Information
Now that you have created and claimed your Google My Business listing, you now need to add some extra information to your GMB listing around your Avon Business. While this looks a bit scary, this bit is really easy and can be done in just a couple of clicks!
However, it is important that the information within your listing is correct and working otherwise those who want to buy Avon from you or even join your team, need the right contact information, hours to contact etc.
On the above screenshot, you will see that each area has a Pencil icon on the right, this means that you can edit this area. You can do so by clicking onto the Pencil Icon and it will let you edit that specific field.
To start with, you want to edit your Hours. You can either set these to be 24 Hours as in Always Open or you can give your Avon Business some operating hours. This part is entirely your choice, however if somebody notices that you aren't open when they see your listing, they may go elsewhere so set it to 24 hours if you can!
Once you have set your hours, you want to add your labels and attributes. Your attributes are things such as "Free Wifi", "Disabled Parking" etc. In the case of Avon, you could set your attributes to things such as "Local Delivery" and "Door To Door" so that people know that you specifically deliver to Local Addresses.
A thing to note is that anybody can suggest changes to your listing so you want to make sure that you get it right the first time and check on a regular basis to ensure nothing has changed.
How to access the info change area
Should you need to access the info editing page to make changes or to remove something, you can do so through your GMB Dashboard. You want to navigate to google.com/business/ and you should come to your Dashboard page.
On the left you will see an option that says "Info", click onto that and you will be able to edit all of the information that is showing on the front end of your listing. This is easily done and you can do it as shown above by clicking onto the pencil icon of each section & field.
Adding Photos To Your GMB Listing
Photos are a huge part of your Google My Business Listing and ensuring that your listing shows the right type of images is absolutely essential. Normally, a listing should include images of the Building that your Business is in, Street View etc however in terms of your Avon Business, we will be including different image that persuade clicks and visitors.
You want to add images that represent your Avon Business, these images could be of products or even of the current brochure, just something that shows what your Business is about. If you have a Logo or Profile Picture from your Facebook Page, include this as this will keep your branding and look consistent from platform to platform.
To find images to include, you can just Google "Avon Cosmetics" and click onto images as they usually include some great ones for a GMB listing. Just make sure that you include the right images.
Now don't be confused with the images that you include within your posts on your page, posting is something that is covered later into the post, for now you are just setting your general listing images.
What about Listing Videos?
You can include videos within your GMB listing and this is something that Google likes Listing Owners to do as Videos often include more of a Business and more information as a whole. However, they only accept videos that meet the Listing Requirements, as shown below;
30 Seconds Or Shorter
100mb Or Smaller
720p Resolution Of Higher
Google are very specific with the requirements in regards to video on listings but most videos meet the requirements anyway and most smartphones can capture video that meet the requirements.
It's good to have a mix of both if you can but if not, Photos will do your listing perfectly!
Google My Business Listing Reviews
Now while this isn't an optimisation as such, you need to ensure that you have a couple of reviews on your listing. This doesn't change your ranking or settings at all, having reviews just allows anybody that clicks onto your listing, to see what other people think about you and your Avon Business.
For a lot of Customers, Reviews are everything. They want to know that you are legitimate and that you will actually take their order form and deliver their products.
Getting reviews onto your listing is easy and you can ask your friends or family to leave a review, or ask some of your customers if they can just take 5 seconds to fill in a sentence or two about your Avon Business.
People like to buy from people and reviews can help to seal the deal within your Avon GMB listing.
Posting Onto Your Google My Business Listing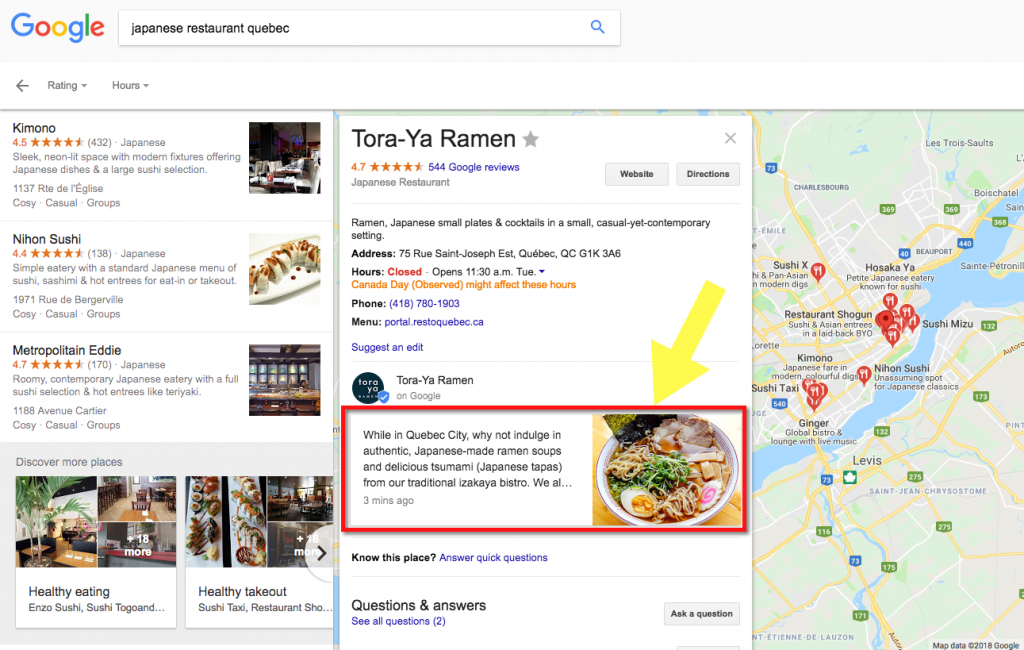 Now that you have setup and optimised your GMB listing for your Avon Business, you now need to start posting onto your Google My Business Listing as this is what your customers are likely to see embedded into your Listing and across your Search Term.
Posting onto your Google My Business is a lot like posting on Facebook and can be done in just a couple of clicks, however posting the right type of content for your Google My Business Listing is what will help you to secure more customers and rise as a Local Business.
How To Post Onto Your GMB Listing
Posting on your Google My Business Listing is one of the most important and regular tasks that you will have to carry out in regards to your listing and knowing how to post onto your GMB Listing with offers and updates from Avon each campaign is key.
To post onto your Google My Business Listing, you need to navigate to your GMB Dashboard which you can do by going to Business.Google.com and selecting "Post" in the bar on the left.
Select "Add Update" To Create A Post
When you click onto the Posts page, you will see a bar towards the top of the page with various options on. These options are the type of posts that you can create within your Google My Business Listing, however each post type gives you a different editor and a different set of options.
In regards to your Avon Business, you want to post on your GMB Listing as an Update by selecting "Add Update" as the other options don't really suit Avon with products and offers changing on a regular basis.
You could use the "Add Event" option to add an event for your Avon Online Parties and for the start of a new Campaign, however you generally want to use the Update option.
Once on this page, select "Add Update" to be taken to the Update Editor.
Create Your First Post On Your GMB Listing
Once you have clicked onto "Add Update", you will see a box appear, of which you can create your post. As this will be your first post, you can just introduce yourself and explain a bit more about what you offer with Avon, whether that be Selling Products as a Representative or Recruitment as a Sales Leader!
When the box pops up, you will notice that it includes various fields, the first one being a Photo/Video field, of which you can click to set and add an image or video to your first post. This photo/video can be anything really, just make sure that you include something. If you are posting about a specific product, you can even include a brochure picture or even a picture of the product.
The second field is the field where you write your post. This is where you include your information about the product or in this sense, about you and what your business is about. You want to include detail but keep it short and simple if you can as people might not want to spend ages reading a GMB Listing post.
Finally, you will see a Button field. This is where you can get a button within your post on your GMB Listing for people to click. You can set this to be a link to your Facebook Page or even a link to your Avon Online Store, just make sure that it meets the post topic.
And that really is it!
You can have a Google My Business Listing created and setup online for your Avon Business in no time and you can start to skyrocket your Avon Business & Sales Locally through Local Sales and even Recruitment!
Take a few minutes and set up your Google My Business Listing to start reaching people locally with your Avon Business and Sales!
Want to give Avon a try?
You can Join Avon in just a couple of minutes by filling in our application form. The form only requires your basic information so that Avon can complete any necessary checks and complete your sign up!
Once you have applied, a member of our team will be in touch to discuss the position and to process your application! Then that's it, you will be apart of our Avon Team and on your way to success!
Read our other blog posts!