With the current Covid-19 Pandemic, a lot of people, both Representatives & Customers are asking for more information in regards to Avon Lockdown and how the business is operating under the current Lockdown Restrictions. However, some restrictions affect Representatives & Customers in different ways in regards to ordering and delivery!
Avon Lockdown has approached as a result of the Covid-18 Pandemic. Knowing how Avon is operating and how things have changed for both Representatives & Customers in regards to Lockdown Operations and more.
In this blog post, you can find out more about the current pandemic and Avon Lockdown in regards to how operations have changed and how Avon are moving forward and through the Pandemic for both Representatives & Customers!
How Has Avon Lockdown Affected Representatives & Customers?
As the Covid-19 Pandemic changes, so do the Lockdown Restrictions and as a result of this, Avon Lockdown has also changed with the restrictions, meaning that things have changed across the Avon Business for both Representatives & Customers.
This has made Avon seem and look different in the way that they are operating as products are changing and stock levels decreasing, it's making it a bit more difficult to get your hands on the products that you really want, from your Favourite Avon Range!
However, even though things have slightly changed as a result of the Covid-19 Pandemic, you can still order from your Representatives and Online like normal and you will still receive the same quality of product and delivery!
Contactless Delivery During Avon Lockdown
As Avon Lockdown has changed things for both Avon Customers & Representatives, one of the main changes is in relation to Representative Delivery. The way that Representatives are delivering products to Customers has changed slightly to keep distant and to keep safe during Covid-19.
As displayed in the image above, the idea behind Contactless Delivery is that you can collect and pay for your Avon Order without coming Face To Face with your customers. While you can remain distant at the door with a face covering, Contactless Delivery works to ensure that both parties remain safe.
A lot of Representatives have adapted this Contactless Delivery Scheme to meet their needs with some changing their payment methods and much more and your Representative will inform you of their version of delivery accordingly.
However, some Representatives may have their own way of delivering products to customers and again, you can find out more about this from your Representative!
Online Sales & Ordering Through Avon Lockdown
While the Contactless Delivery Scheme is fantastic for those Representatives that are still delivering orders through Avon Lockdown, some Representatives are only taking Online Orders through the Digital Brochure & Online Store.
The main reason for this is because that Online Store Orders are delivered via a Courier, therefore your Representative doesn't have to carry out any deliveries to customers with online orders as it's all handled on their behalf!
This is more for those customers who don't want to deliver orders due to them being of a specific risk when it comes to Covid-19 or those that are worried about contracting the virus through a Representative.
However, you can still enjoy the same great products, for the same cost as out of the Avon Brochure, meaning that you will experience no difference within your experience!
Reduced Stock Levels During Avon Lockdown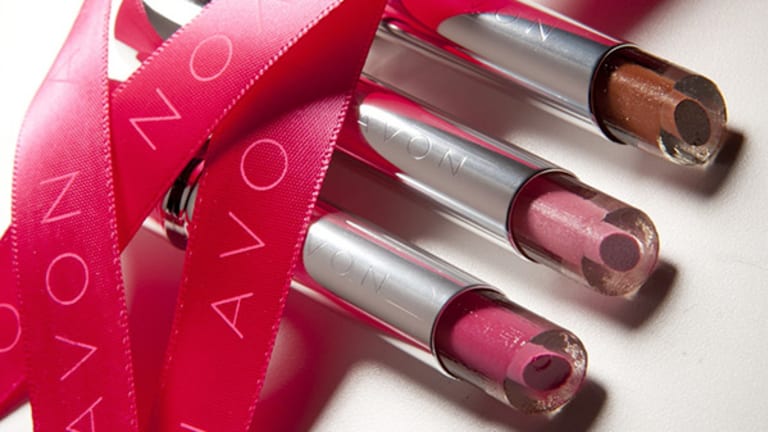 The main issue in regards to the Covid-19 Pandemic and the Lockdown is in regards to the Stock Levels within Avon. With a lot of people Working From Home and having more spare time on their hands, people are ordering more and therefore specific products such as the Nightwear Range are currently operating with low stock.
However, because of the current Pandemic, Avon are struggling to get ahold of stock to replenish these stock levels and therefore, a lot of the popular products are becoming out of stock and very low, meaning that Representatives are struggling to get hold of the products and customers are struggling to get them too!
But Avon are working around the clock and stock is coming into the Avon Warehouses every day, allowing customers to get back to enjoying their favourite Avon Products with their every order!
You can still order from Avon and your Representative though and you will still get your products! Speak to your Representative to find out more about the stock levels!
Representatives Keeping Covid-19 Safe During Avon Lockdown
Much like the other aspects mentioned above, the way that Representatives appear during the Avon Lockdown will change too and therefore you may be shocked as to how your Representative will act when they are delivering an order or collecting a brochure!
From looking different with a Face Covering to acting differently with you as a Customer, Representatives are doing everything that they can to keep safe during this Covid-19 Pandemic and following the guidelines is essential to the safety of them and their business!
However, regardless of the current pandemic and regardless of how they are acting around you as a Customer, your Representative will still be on hand to ensure that your delivery is as scheduled and that you still get the same level of quality across the Avon Business!
Wearing A Face Covering As A Representative
The main change and adaptation of the Coronavirus Pandemic across the Avon Lockdown is the use of Face Coverings. Representatives are working to the current guidelines, of which make wearing a Face Mask around others mandatory.
Therefore, if your Representative delivers your order while wearing a Face Mask, it's for your Safety along with theirs as all they want to do is provide a great customer experience for you, while remaining safe as a Customer & Representative.
While you may ask for your Representative to remove their face mask when they visit, it's to keep everybody within the delivery and collection process safe from the virus.
Silent Delivery From Your Representative
When your Representative delivers your order or collects your brochure, you may find that they don't stop to speak to you for a prolonged period of time like they usually would.
This is due to the current Covid-19 Restrictions, not allowing people to mix Indoors or Outdoors. By your Representative not extending the time of your delivery, it's ensuring that you and your customer remain safe through the Delivery Process!
However, if you want to discuss your Avon Order or Products with your Representative, you still can, just be mindful of the current Covid-19 Restrictions!
Maintaining Social Distancing With Your Representative
Much like the Face Covering and the Silent Delivery, Social Distancing is a massive part of the Covid-19 Pandemic and the Government Advice and keeping a distance from your Representative & Customers, you can remain safe between both parties.
2 Metres is the desired Social Distancing set out by the government and what should be followed, however not all situations can be Social Distanced by 2 Metres.
Will Avon Lockdown Affect Both Representatives & Customers?
In some ways it will, however both Representatives & Customers will be able to continue as normal through the Pandemic & Lockdown.
Will Customers Be Able To Order During Avon Lockdown?
Absolutely! Customers can continue to order both Online & Offline as normal, through their Representative!
Will Avon Return Back To Normal?
Of course! Avon is operating as normal, however once the Pandemic is over, Avon will return back to normal too!
Want to give Avon a try?
You can Join Avon in just a couple of minutes by filling in our application form. The form only requires your basic information so that Avon can complete any necessary checks and complete your sign up!
Want to join one of our Sales Leaders? Click here to Join Avon with our Sales Leaders!
Once you have applied, a member of our team will be in touch to discuss the position and to process your application! Then that's it, you will be apart of our Avon Team and on your way to success!
Read our other blog posts!